Research Grants Program
Our Research Grants Program Is Currently Closed
We are able to support these grants through the generosity of others, and are hard at work to secure funding so that we can continue providing Research Grants. Thank you for your patience and we look forward to providing more updates soon
Leukemia Texas awards grants for research to enhance the understanding of leukemia and its cause, to develop new and improved methods of treatment, and to ultimately find a cure. Thankfully, incredible progress has been made to improve the treatment of leukemia and Leukemia Texas has taken an active role in contributing to these advances.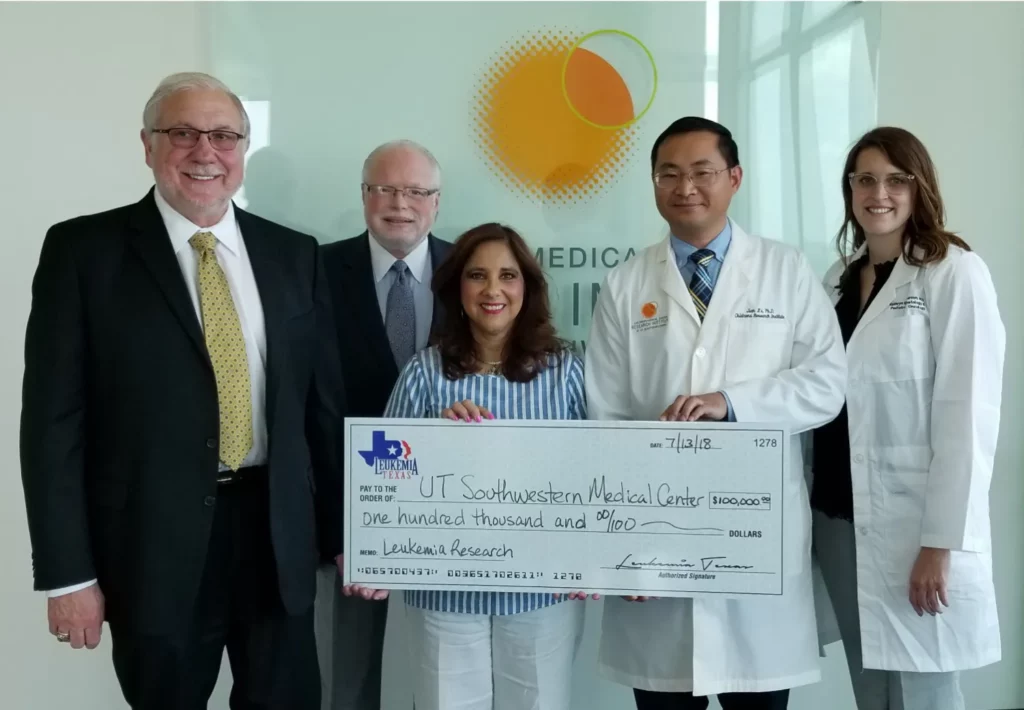 Texas Institutions:
All grants are awarded to Texas institutions for research conducted in Texas. Leukemia Texas has awarded grants for research conducted at Cook Children's Medical Center, UNT Health Science Center, Baylor Research Institute, UT Southwestern Medical Center, The University of Texas Health Science Center at San Antonio, Texas Tech University Health Science Center, and The University of Texas M.D. Anderson Cancer Center. 
Young Investigators:
Leukemia Texas has awarded several Young Investigator grants. This award helps fulfill a major need in today's scientific research community by funding innovative research by promising young researchers at the early stages of their careers. $1,125,000 in Young Investigator grants have been awarded in recent years.
Publications:
Results from recent Leukemia Texas grants have been internationally recognized and have been published in the Journal of the American Medical Association, Lancet, Proceedings of the National Academy of Science, Journal of Clinical Oncology, Tissue Antigens, Biology of Blood and Marrow Transplantation and Hematology/Oncology Clinics of North America.
Presentations:
Our award-winning research has also been presented at the American Society of Hematology Annual Conference, National Marrow Donor Program Conference, the 18th Annual HLA Advanced Technical Workshop, the 13th Annual Conference on the Gene Therapy of Cancer and the 48th Annual Meeting of the American Society of Hematology. 
2019 Research Grant Recipient
In 2019, we were proud to award our $100,000 Leukemia Texas Research Grant to Dr. Kapil Bhalla and,
Co-Investigator, Dr. Courtney DiNardo from The University of Texas MD Anderson Cancer Center in Houston, TX. Please enjoy the video below to learn more about their incredible work!