THANK YOU FOR JOINING US AT THE 7TH ANNUAL CONCERT FOR A CURE!
LIVE ENTERTAINMENT BY PAT GREEN
HONORARY CHAIRS, THE HOLLMAN FAMILY
Travis Hollman serves as President and CEO of Hollman Inc., the world's largest manufacturer of sports, fitness, and office lockers. Hollman's leading-edge locker and workspace solutions can be found in the locker rooms of the Dallas Cowboys, New Orleans Saints, the Dallas Mavericks, The New York Times, Apple, Google, and the J.P. Morgan Chase Park Avenue offices.
He attributes his success to the team he has surrounded himself with, as well as a continual drive to improve. Travis has always put purpose over profit, showing the world that you can have fun in business and be a source of greater good for the local community.
Throughout the years, Travis has been heavily involved with local charities, sitting on the Board of Directors for The Family Place, an organization that works to support victims of domestic violence.
He and his wife, Stephanie Hollman, have been actively involved in Big Brothers Big Sisters for almost ten years and have continuously showed their support for Leukemia Texas.
Stephanie, who stars in Bravo's The Real Housewives of Dallas, was the Event Co-Chair of the Concert in 2016 and helped make it the most successful Concert to date.
Stephanie's passion for giving has always been a strong force in her life, especially working for 6 years as a social worker in Oklahoma before she met Travis and claimed Dallas as her new home.
The Hollmans have continued their support for various Leukemia Texas events and patients since 2016, making them one of Leukemia Texas' most influential partners in helping children and adults affected by leukemia.
Travis and Stephanie have two wonderful boys- Chance and Cruz Hollman who both love soccer, Fortnite, and traveling with family!
EVENT CHAIRS HILLARY KENNEDY & TYLER DAWN

Hilary Kennedy, a proud TCU alum, is an Emmy Award winning TV host from nationally syndicated morning shows, "Eye Opener", "Morning Dose", and now the Four Minute Buzz with the Glenn Beck Show on Blaze Media. She is also a contributing host to The Country Network. She has appeared on Access Hollywood, Extra, The Rachel Ray Show, and published her first book, Career Diary of a TV Host: 30 Days on the Job.  Outside the TV studio, she is a UFC fan and serial Instagrammer at @hilarykennedy.
Tyler Dawn, a proud SMU mom, is a yoga instructor and owner of My Temple Yoga, mom of two young men, and advocate for addiction recovery and pediatric cancer.  As a mom of a two-time cancer survivor, she understands the struggles the whole family endures. She has served as a volunteer at Children's Medical Center and the Children's Cancer Fund.  She currently serves at Leukemia Texas, The Gatehouse Grapevine, Twelfth Step Ministry, Serenity Church and Grace Grapevine.
EMCEE JENNY ANCHONDO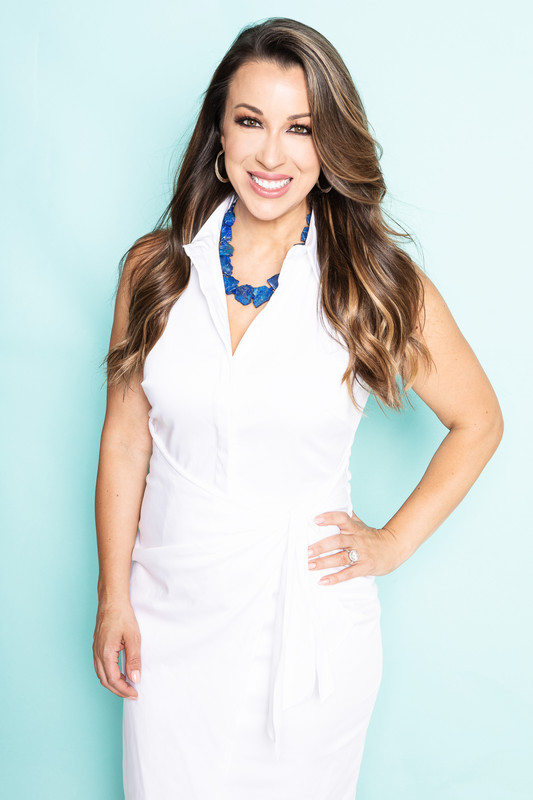 Jenny Anchondo is a Emmy-Award winning news anchor, host and reporter. She has worked for CBS, NBC and Fox at TV stations all over the country. Jenny is the co-host of the Second Shot podcast, which is an inspirational and motivational show that takes a "second shot" at the news of the day.
Previously, she was the co-host of the nationally syndicated broadcast, Morning Dose. Jenny also served as an anchor and reporter for top-rated Fox 4 News, serving as the single host of the Saturday and Sunday morning broadcasts.
In addition, Jenny works as a media coach and to mentor to individuals and businesses looking to book interviews and gain the confidence needed to effectively get their message across on camera.
She is passionate volunteer, community servant and advocate for the causes that matter most to her. As someone who struggled with an eating disorder for more than a decade, Jenny is an outspoken champion of eating disorder education and solutions.
In addition to several philanthropic projects, Jenny has served on the boards of the Housing Crisis Center and Leukemia Texas. As a first-generation college student, she is committed to literacy and education. She has also served as a volunteer for Reading Partners, the Reading Seed and multiple other literacy-based organizations.
Jenny and her husband, Heath are new parents to 2-year old Brighton Valentina.
Host Committee
| | | |
| --- | --- | --- |
| Monika Anderson | Cortney Bailey | Sarah Beauregard |
| Suleika Bloom | Payton Boner | Emily Brewer |
| Paige Chenault | Stephanie Corbett | Alyson Feaster |
| Genevieve Gurchak | Tiffany Hendra | Jayne Herring |
| Tiffaney Dale Hunter | Jennifer Johnson | Stephanie Kille |
| Missy Kling | Whitney Kutch | Maureen Locus |
| Patsy Micale | Caitlin Mitchell | Jana Nuss |
| Jennifer Owens | Melissa Poe | Amy Robbins |
| Jasmine Sadry | Phuong Tran | Cordelia Tullous |
| Amy Vanderoff | Amy Voss | Kimber Westphall |
| Marsha Wolson | WL Yee | |
PRESENTING SPONSOR
TITLE SPONSOR